Scale-up Funds
The aim of Scale-up funding is to get lab-based work in shape for scale up, and to allow initial pilot-scale trials of promising work developed at lab scale. We will call for proposals to take research within our remit from labscale up to TRL 4, by funding teams to get it in a position for pilot scale trials and allow initial piloting tests to prepare the work for larger scale trials. We see these projects as offering an important gateway to move from discovery to innovation, and anticipate that the fund will allow a better techno-economic assessment of potential of the work to generate value and impact.
Past funding calls
New BBNet Scale-up funding call, up to £50K/projects
Deadline

28 February 2003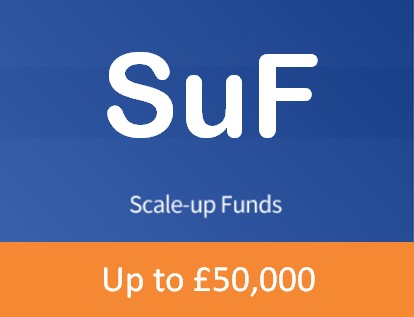 We are pleased to announce that the BBNet Scale-up funding call 'Opening the road to commercialisation: scale up feasibility studies' is now open.
Funding is available for BBNet members who are eligible to receive BBSRC funding. All applicants must be BBNet members at the time of the application. Projects can be any duration up to 12 months.
Criteria:
BBNet is looking for applications that:
Demonstrate that the lab scale stage has been completed to TRL3, the technology concept has been proven but process components have not been integrated, and the project is ready to scale-up.
Demonstrate a clear market opportunity with potential customers identified.
Will lay the foundation for technology progression to TRL5.
Involve an engineering contractor who will help design the processes for scale-up.
Take into account techno-economic considerations and LCA analysis – processes should have the potential to be cost-competitive and offer significant savings in carbon emissions or other environmental benefits compared to current processes or products.
Provide clear evidence of a potential business opportunity either through that collaboration with a relevant business or letter of support from credible potential end-users with indications of market size.
Demonstrate potential for substantial carbon savings, compared to existing alternative products where appropriate.
Are relevant to the Industrial Biotechnology sector and fit the BBSRC definition of industrial biotechnology as described above in the scope of this call.
Applicants must be members of BBNet – this includes any industry partners.
Proposals must contain a clear and concise plan with well-defined objectives and deliverables.
Proposals must contain a clear plan for following-up and progressing the work/technology development beyond the scale-up.
Proposals must include a plan for establishing value and demonstrating impact from project deliverables.
Proposals must demonstrate good value for money.
Application process and timeline:
There is a 2-stage application process which consists of initially submitting a 1-page outline application and later, by invitation only, a full proposal.
The deadline to submit this 1-page outline application is 17:00 on Tuesday 28th February 2023.
For more information about this call download the Operational Guidance document below.
We look forward to receiving your applications!