2nd BBNet Conference: Review and resources for members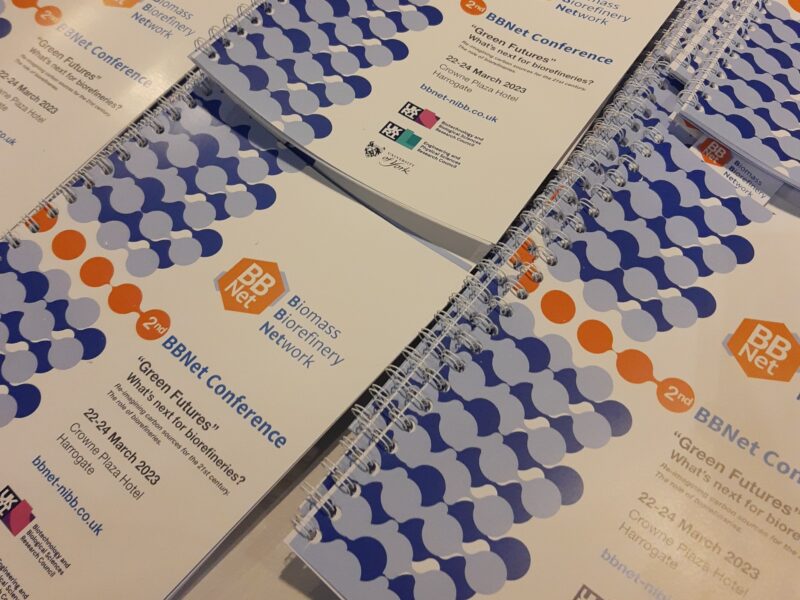 The 2nd BBNet Conference: "Green Futures" What's next for biorefineries? was held over three days, between 22 and 24th March 2023 in Harrogate, UK.
There were a total of eight sessions, featuring engaging presentations from 32 leading academics and industrialists in the field of biorefineries, in addition to networking opportunities. The conference attracted 127 attendees from 9 countries (Argentina, Austria, Belgium, Brazil, France, India, Netherlands, United Kingdom, United States) and representing 36 different universities and 30 companies as well as research organisations, NGOs and UK Governmental Departments.
Here is some of the feedback we received:
"This was my first in-person conference since my career as a researcher and I enjoyed every part of it. …It was a great networking event for me, and I had the unique opportunity to meet with likeminded delegates from similar field[s] in biomass valorisation and make new contacts via LinkedIn. …Thanks again for this great opportunity." (Postdoctoral Research Associate)
"As something of an outsider (a farmer), I thought the conference was excellent. I was hugely impressed with the range of imaginative ideas, and talked to a lot of intelligent, highly motivated people. Several seemed interested in a farm tour, aimed at scientists, rather than the general public." (Industry Managing Director)
"I appreciated the range from small spin-out companies to multibillion dollar multinational companies, all very insightful, and the opportunity to make contact with members from this range of organisations holding very different posts and roles." (Postdoctoral Research Associate)
"I had a fantastic experience at the 2nd BBNet Conference. The event was well planned and offered great opportunities for collaboration, networking, and synthesising of new research ideas. I look forward to the next one." Samson Oyeyinka, Senior Lecturer in Food Chemistry and Nutrition, University Lincoln
"I feel that 2nd BBNet was a wonderful opportunity to meet with old friends and other researchers working in the field and to learn about challenges, opportunities and progress in the field of biorenewables over the world. It was really interesting to see how the whole area is developing. Thank you for allowing me to participate!" (Professor)
For BBNet members a copy of the conference programme and slides from a selection of the speakers are available to access in our Resources area.